Latest News
http://www.miltrucosblogger.info/2013/09/anadir-un-gadget-de-entradas-recientes.html http://www.amorsevillista.com/2011/03/poner-fondo-gadget.html
En tierras Niponas nos sorprenden con un anuncio de la revista Coro-coro en el cual nos revelan un nuevo Pokémon (el cual ya habia sido filtrado hace algunos ayeres), su nombre es Diancie el Pokémon diamante, el cual también estará junto con Xerneas en Yveltal en la pelicula 17; Cocoon of Destruction & Diancie (破壊の繭とディアンシー).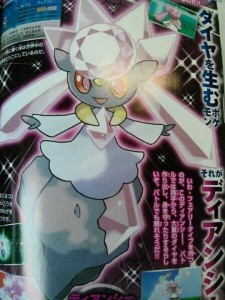 Diancie es el Pokémon

#719

y suponemos que será repartido mediante eventos al estreno de la pélicula, esperemos que llegue a nuestras tierras pronto. Por ahora no hay más detalles oficiales sobre el Pokémon o la pélicula.

Es todo por ahora, los mantendremos informados!
Fuente:serebii.net
Publicado por Erick , lunes, febrero 24, 2014
1

Se ha presentado oficialmente a todo el mundo, el nuevo pokémon legendario de la sexta generación que se filtro anteriormente, Diancie, surge de una repentina transformación de Carbink, se dice que el brillo que irradia de su cuerpo, es la vista más hermosa del mundo.
Grupos de Carbink se reunen alrededor de Diancie, pero ella no les presta atención, actua de acuerdo a su propia voluntad.
Inadvertidamente el sitio oficial revelo que Diancie tiene una forma brillosa en la cual sus rocas se vuelven más oscuras y su cuerpo más rosa.
Dari sejarah, diketahui merauke ditemukan pada tanggal 12 Februari 1902. Orang yang pertama menetap di sana adalah pegawai pemerintah belanda. Mereka mencoba untuk hidup diantara dua suku asli yaitu Marind Anim dan Sohoers.

Mereka berjuang keras melawan keganasan alam (termasuk pemburu kepala). Lama kelamaan tempat tersebut mengalami pertumbuhan yang sangat cepat sehingga menjadi sebuah "kota". Jauh di eropa, para wanita suka memakai hiasan bulu dari burung dari khayangan "Cendrawasih" di topi mereka.


Dari Merauke orang Indonesia, Eropa dan Cina, mulai untuk "menyerbu" hutan di selatan nugini untuk memburu burung sebanyak mungkin. Ketika pemerintah Belanda melarang perburuan, mereka semua kembali ke Merauke untuk menghabiskan uang yang mereka dapatkan. Hal ini yang menyebabkan mengapa di kemudian hari populasi penduduk di Merauke tidak banyak, ini dikarenakan Merauke adalah kota untuk para pendatang (orang asing). Namun sekarang, banyak penduduk asli Papua yang mulai menetap di Merauke.


Asal mula nama "Merauke" sebenarnya berasal dari sebuah salah paham yang dilakukan oleh para pendatang pertama. Ketika para pendatang menanyakan kepada penduduk asli apa nama sebuah perkampungan , mereka menjawab " Maro-ke" yang sebenarnya berarti "itu sungai Maro". Orang Marind berpikir bahwa sungai maro(yang lebarnya 500m) lebih penting dari nama area tempat sebuah hutan yaitu Gandin. Penduduk asli papua sendiri menyebut area tempat kampung tersebut terleta

Yusuf Islam (born Steven Demetre Georgiou, 21 July 1948), commonly known by his former stage name Cat Stevens, is a British singer-songwriter, multi-instrumentalist, humanitarian, education philanthropist, and prominent convert to Islam.

His early 1970s record albums Tea for the Tillerman and Teaser and the Firecat were both certified triple platinum in the United States by the RIAA. His 1972 album Catch Bull at Four sold half a million copies in the first two weeks of release alone and was Billboard's number-one LP for three consecutive weeks. He has also earned two ASCAP songwriting awards in consecutive years for "The First Cut Is the Deepest", which has been a hit single for four different artists.

Stevens converted to Islam in December 1977 and adopted the name Yusuf Islam the following year. In 1979, he auctioned all his guitars for charity[10] and left his music career to devote himself to educational and philanthropic causes in the Muslim community. He has been given several awards for his work in promoting peace in the world, including the 2003 World Award, the 2004 Man for Peace Award, and the 2007 Mediterranean Prize for Peace. In 2006, he returned to pop music with his first album of new pop songs in 28 years, entitled An Other Cup. He now goes professionally by the single name Yusuf. His most recent album, Roadsinger, was released on 5 May 2009.